Volume 1
Volume 2
Volume 3
Estimating the Concentration of DNA by Fluorometry Using Hoechst 33258
(Protocol summary only for purposes of this preview site)
Measuring the concentration of DNA using fluorometry is more sensitive than spectrophotometry, allowing the detection of nanogram quantities of DNA. In this assay, DNA preparations of known and unknown concentrations are incubated with the fluorochrome Hoechst 33258. Absorption values for the unknown sample are compared with those observed for a known dilution series, and the concentration of the unknown sample is estimated by interpolation (Labarca and Paigen 1980; Daxhelet et al. 1989). The following protocol is modified from Held (2001).

Save 30% & Get Free Shipping!*
Save 30% at checkout on our website.
(Limited time special offer.)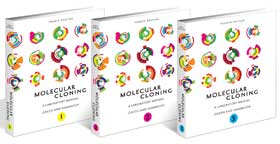 Search for information about other protocols included in the book:
Read What Others Are Saying About Molecular Cloning:
* Free shipping to individuals in U.S. and Canada only