Volume 1
Volume 2
Volume 3
Labeling 3 Termini of Double-Stranded DNA Using the Klenow Fragment of E. coli DNA Polymerase I
(Protocol summary only for purposes of this preview site)
The simplest way to label linear dsDNA is to use the Klenow fragment of E. coli DNA Pol I to catalyze the incorporation of one or more [-32P]dNTPs into a recessed 3 terminus (Telford et al. 1979; Cobianchi and Wilson 1987). For a summary of other methods that may be used to label the termini of DNA, see Table 1. Fragments suitable as templates for the end-filling reaction are produced by digestion of DNA with an appropriate restriction enzyme. The Klenow enzyme is then used to catalyze the attachment of dNTPs to the recessed 3-hydroxyl groups (see the information panel E. coli DNA Polymerase I and the Klenow Fragment). The labeling reaction is versatile and quick and has the advantage that it can be performed in the restriction digest, without any change of buffer. Because the Klenow enzyme has an indolent 35 exonuclease activity, its ability to incorporate nucleotides at blunt or 3-protruding termini is limited. One or both of the 3 ends of a linear dsDNA molecule can therefore be labeled, depending on the nature of the termini and radiolabeled nucleotide included in the labeling reaction (see the box Labeling Recessed and Blunt-Ended 3 Termini). However, under most circumstances, it is best to include unlabeled dNTPs in the labeling reaction. This allows the labeling of the recessed 3 terminus at any position. In addition, unlabeled dNTPs incorporated downstream from the labeled dNTP shield the labeled nucleotide from the action of the indolent 35 exonuclease. Fragments labeled at both 3 termini are used as the following:

Save 30% & Get Free Shipping!*
Save 30% at checkout on our website.
(Limited time special offer.)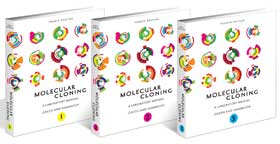 Search for information about other protocols included in the book:
Read What Others Are Saying About Molecular Cloning:
* Free shipping to individuals in U.S. and Canada only