Volume 1
Volume 2
Volume 3
Detection of DNA in Agarose Gels by Staining
(Protocol summary only for purposes of this preview site)
DNAs that have been separated by migration through agarose gels may be detected by staining with dyes with low intrinsic fluorescence, a strong affinity for DNA, and a high quantum yield of fluorescence after binding to nucleic acids. The greater the increase in quantum yield, the higher the ratio of signal to noise. Bands of DNA stained with these dyes are visualized by illuminating the gel with UV light at one wavelength and recording at another. Methods are described here for staining and visualization of DNA in gels using three dyes: ethidium bromide, SYBR Gold, and SYBR Green 1. Further information on these and other dyes may be found in Chapter 1, in the Introduction to Quantifying DNA.

Save 30% & Get Free Shipping!*
Save 30% at checkout on our website.
(Limited time special offer.)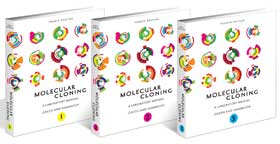 Search for information about other protocols included in the book:
Read What Others Are Saying About Molecular Cloning:
* Free shipping to individuals in U.S. and Canada only