Volume 1
Volume 2
Volume 3
Southern Blotting
(Protocol summary only for purposes of this preview site)
In Southern blotting, DNA is digested with one or more restriction enzymes, and the resulting fragments are separated according to size by electrophoresis through a standard agarose gel. The DNA is then denatured in situ and transferred from the gel to a solid support (usually a nylon or nitrocellulose membrane). The relative positions of the DNA fragments are preserved during their transfer to the membrane. The DNA is then fixed to the membrane and prepared for hybridization as described in Protocol 12. An alternative method of simultaneous transfer is presented in the present protocol. The procedure for upward transfer of DNA in Southern blotting is performed essentially as described for upward transfer of RNA (Chapter 6, Protocol 12).

Save 30% & Get Free Shipping!*
Save 30% at checkout on our website.
(Limited time special offer.)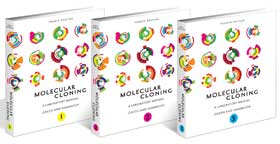 Search for information about other protocols included in the book:
Read What Others Are Saying About Molecular Cloning:
* Free shipping to individuals in U.S. and Canada only