Volume 1
Volume 2
Volume 3
Purification of Fusion Proteins by Affinity Chromatography on Glutathione Resin
(Protocol summary only for purposes of this preview site)
Fusion proteins that contain a glutathione S-transferase (GST) moiety can be purified to near homogeneity by affinity chromatography on glutathione-linked resins (for review, see LaVallie et al. 2000). GSTs are a class of enzymes that use glutathione (-glutamylcysteinylglycine) as a substrate to inactivate toxic small molecules via formation of mercapturic acids (for review, see Jakoby and Ziegler 1990). The affinity of GST for its substrate is in the submillimolar range, making it ideal for applications in affinity chromatography. GST from Schistosoma japonicum is the fusion tag of many commonly used GST vectors, including the pGEX series (GE Healthcare) among others (see Table 2 in the chapter introduction). Glutathione immobilized on a chromatography matrix, such as agarose or Sepharose, acts as a substrate for the GST moiety of fusion proteins. Contaminating proteins are washed away, and the bound GST fusion proteins are then readily displaced from the resin by elution with buffers containing free glutathione. Because the binding affinity of GST for glutathione is relatively independent of the ionic strength of the solution (over the 150500 mM NaCl range) (Yassin et al. 2003), high salt concentrations in the binding and wash buffers can be used to reduce nonspecific interactions of contaminants with the negatively charged glutathione. The elution buffers contain 50100 mM Tris (pH 8.0) to neutralize two carboxylic acid groups of glutathione (pKa 2.1 and pKa 3.6) (Dawson et al. 1989). The binding capacity of the glutathioneagarose for GST fusion proteins is high (>12 mg GST/mL glutathioneagarose). Furthermore, anti-GST antibodies for immunoblot analysis of protein expression are available from several sources (GE Healthcare, Sigma-Aldrich, and Santa Cruz Biotechnology, among others).

Save 30% & Get Free Shipping!*
Save 30% at checkout on our website.
(Limited time special offer.)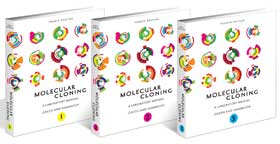 Search for information about other protocols included in the book:
Read What Others Are Saying About Molecular Cloning:
* Free shipping to individuals in U.S. and Canada only