Volume 1
Volume 2
Volume 3
Using Ethidium Bromide to Estimate the Amount of DNA in Bands after Electrophoresis through Minigels
(Protocol summary only for purposes of this preview site)
This brief protocol outlines a rapid way to measure the quantity of DNA and to analyze its physical state at the same time. Bands of DNA that contain >5 ng of DNA can be detected by transillumination of an agarose minigel gel stained with ethidium bromide and illuminated with UV light. The amount of DNA in an unknown sample is estimated by comparing the intensity of the image captured by CCD camera, with the images obtained from a set of standards containing known amounts of DNA. Analysis of stained gels is a rapid way to both measure the quantity of DNA and analyze its physical state.

Save 30% & Get Free Shipping!*
Save 30% at checkout on our website.
(Limited time special offer.)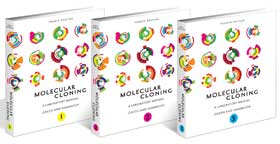 Search for information about other protocols included in the book:
Read What Others Are Saying About Molecular Cloning:
* Free shipping to individuals in U.S. and Canada only