Volume 1
Volume 2
Volume 3
Formaldehyde Cross-Linking
(Protocol summary only for purposes of this preview site)
Formaldehyde cross-linking of DNA to associated proteins is a relatively straightforward method, but it is also the most critical step in the ChIP and 3C analyses. Although formaldehyde is a highly permeable cross-linker, its maximum cross-linking efficiencies are estimated to be at 1 for mammalian cells because reactivity is limited to amines. Therefore, a relatively large number of cells are required for 3C and ChIP-based assays. Five hundred million cross-linked diploid cells are equivalent to 1.66 fmol of the genome. Thus, only 100 amol of genomic copies is analyzed for one ChIP assay. Because the quality of cross-linked chromatin can vary, even when generated under near-identical conditions, it is preferable to generate multiple large batches. Different cell types require different cross-linking conditions and approaches. Suspension cells are easier to cross-link and harvest because they are not attached to the growth surfaces. Formaldehyde can simply be added to the medium. Cross-linked cells are then harvested by centrifugation. When cross-linking cells that are induced with growth factors and signaling molecules, a careful plan for cross-linking and harvesting cells should be formulated before the start of the experiment. For adherent cells, decide whether to cross-link before or after harvesting them from the plates. Note that adherent cells might be difficult to recover completely when cross-linking is carried out when the cells are attached to the plates,

Save 30% & Get Free Shipping!*
Save 30% at checkout on our website.
(Limited time special offer.)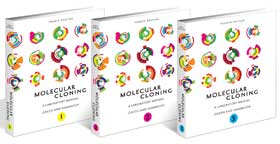 Search for information about other protocols included in the book:
Read What Others Are Saying About Molecular Cloning:
* Free shipping to individuals in U.S. and Canada only