Volume 1
Volume 2
Volume 3
Solution-Phase Exome Capture
(Protocol summary only for purposes of this preview site)
This protocol describes the construction of a paired-end library of genomic DNA (gDNA) and subsequent capture of specific regions of a genome using NimbleGen sequence capture probes and Illumina TruSeq oligos. The captured DNA, purified and quantitated, is appropriate for use as template in Illumina sequencing systems. This protocol is the most commonly used approach for exome capture. Solid-phase methods were used at one time but have been superseded by solution-phase capture, in part because of the development of specialized reagents developed by various companies. Further issues and advantages of solution-phase exome capture are discussed in the chapter introduction under Targeted Sequencing: An Overview (see also Fig. 1 in the chapter introduction).

Save 30% & Get Free Shipping!*
Save 30% at checkout on our website.
(Limited time special offer.)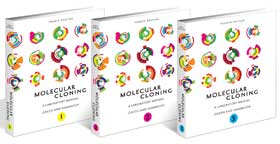 Search for information about other protocols included in the book:
Read What Others Are Saying About Molecular Cloning:
* Free shipping to individuals in U.S. and Canada only