Volume 1
Volume 2
Volume 3
Transformation of E. coli by Electroporation
(Protocol summary only for purposes of this preview site)
Preparing electrocompetent bacteria is considerably easier than preparing cells for transformation by chemical methods. Bacteria are simply grown to mid-log phase, chilled, centrifuged, washed extensively with ice-cold buffer or H2O to reduce the ionic strength of the cell suspension, and then suspended in an ice-cold buffer containing 10 glycerol. DNA may be introduced immediately into the bacteria by exposing them to a short high-voltage electrical discharge (Chassy et al. 1988; Dower et al. 1988; Miller et al. 1988). Alternatively, the cell suspension may be snap-frozen and stored at 70C for up to 6 mo before electroporation, without loss of transforming efficiency. For further information, see the Discussion section at the end of this protocol.

Save 30% & Get Free Shipping!*
Save 30% at checkout on our website.
(Limited time special offer.)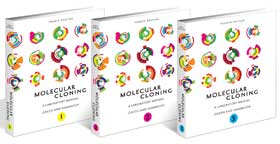 Search for information about other protocols included in the book:
Read What Others Are Saying About Molecular Cloning:
* Free shipping to individuals in U.S. and Canada only