Volume 1
Volume 2
Volume 3
Dephosphorylation of Plasmid DNA
(Protocol summary only for purposes of this preview site)
Removal of terminal 5-phosphate groups suppresses self-ligation and circularization of plasmid DNA. During ligation in vitro, DNA ligase will catalyze the formation of a phosphodiester bond between adjacent nucleotides only if one nucleotide carries a 5-phosphate residue and the other carries a 3-hydroxyl terminus. Recircularization of plasmid DNA can therefore be minimized by removing the 5-phosphate residues from both termini of the plasmid DNA with alkaline phosphatase (Seeburg et al. 1977; Ullrich et al. 1977). However, a foreign DNA segment with intact 5-terminal phosphate residues can be ligated efficiently in vitro to the dephosphorylated plasmid DNA to generate an open circular molecule containing two nicks. Because these open circular DNA molecules transform E. coli more efficiently than dephosphorylated linear DNA, most of the transformants should, in theory, contain recombinant plasmids. For further information, see the Discussion section at the end of this protocol.

Save 30% & Get Free Shipping!*
Save 30% at checkout on our website.
(Limited time special offer.)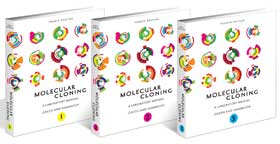 Search for information about other protocols included in the book:
Read What Others Are Saying About Molecular Cloning:
* Free shipping to individuals in U.S. and Canada only