Volume 1
Volume 2
Volume 3
Electroporation of Competent BAC Host Cells with the Recombinant Shuttle Vector
(Protocol summary only for purposes of this preview site)
BAC clones are rendered electrocompetent and transformed with the recombinant shuttle vector, pLD53SCAB/AB-box. Cointegrates are selected by growth on chloramphenicol and ampicillin to ensure recombination of the shuttle vector into the BAC (see Fig. 5 of the chapter introduction).

Save 30% & Get Free Shipping!*
Save 30% at checkout on our website.
(Limited time special offer.)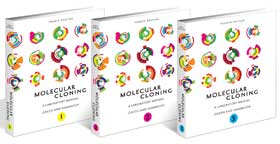 Search for information about other protocols included in the book:
Read What Others Are Saying About Molecular Cloning:
* Free shipping to individuals in U.S. and Canada only