Volume 1
Volume 2
Volume 3
Phosphorylating the 5 Termini of Oligonucleotides Using T4 Polynucleotide Kinase
(Protocol summary only for purposes of this preview site)
Synthetic oligonucleotides lack phosphate groups at their 5 termini and are therefore easily radiolabeled by transferring the -32P from [-32P]ATP in a reaction catalyzed by bacteriophage T4 polynucleotide kinase. Oligonucleotides radiolabeled in this way may be used as hybridization probes and primers for DNA sequencing, 5-end mapping of mRNAs.

Save 30% & Get Free Shipping!*
Save 30% at checkout on our website.
(Limited time special offer.)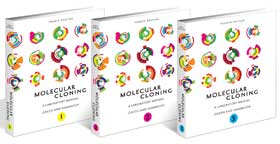 Search for information about other protocols included in the book:
Read What Others Are Saying About Molecular Cloning:
* Free shipping to individuals in U.S. and Canada only