Volume 1
Volume 2
Volume 3
Labeling of DNA Probes by Nick Translation
(Protocol summary only for purposes of this preview site)
Nick translation requires the simultaneous activity of two different enzymes (see Fig. 1). DNase I is used to cleave (nick) phosphodiester bonds at random sites in both strands of a double-stranded target DNA (in the presence of Mg2, DNase I becomes a single-stranded endonuclease). E. coli DNA Pol I is used to add deoxynucleotides to the 3-hydroxyl termini created by DNase I. In addition to its polymerizing activity, DNA Pol I carries a 53 exonucleolytic activity that removes nucleotides from the 5 side of the nick. The simultaneous elimination of nucleotides from the 5 side and the addition of labeled nucleotides to the 3 side result in movement of the nick (nick translation) along the DNA, which becomes labeled to high specific activity (Kelly et al. 1970). The reaction produces double-stranded probes that can be used for a variety of purposes including screening genomic and cDNA libraries and Southern, northern, and in situ hybridizations. Both radioactive and nonradioactive probes can be synthesized using this method. This method requires a large quantity of DNA (1 g). The reaction time is relatively long (2 h), and the temperature (15C) is important.

Save 30% & Get Free Shipping!*
Save 30% at checkout on our website.
(Limited time special offer.)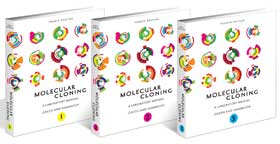 Search for information about other protocols included in the book:
Read What Others Are Saying About Molecular Cloning:
* Free shipping to individuals in U.S. and Canada only