Volume 1
Volume 2
Volume 3
Concentrating Nucleic Acids by Extraction with Butanol
(Protocol summary only for purposes of this preview site)
During extraction of aqueous solutions with solvents such as secondary butyl alcohol (isobutanol) or n-butyl alcohol (n-butanol), a proportion of the water molecules is partitioned into the organic phase. Nucleic acids remain in the aqueous phase. By performing several sequential cycles of extraction, the volume of a nucleic acid solution can be reduced significantly. This method of concentration can be used to reduce the volume of dilute solutions to the point where the nucleic acid can be recovered easily by precipitation with ethanol.

Save 30% & Get Free Shipping!*
Save 30% at checkout on our website.
(Limited time special offer.)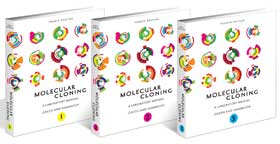 Search for information about other protocols included in the book:
Read What Others Are Saying About Molecular Cloning:
* Free shipping to individuals in U.S. and Canada only