Volume 1
Volume 2
Volume 3
Isolation of the RNA Tags, 5-Linker Ligation, and Reverse Transcription PCR Amplification
(Protocol summary only for purposes of this preview site)
This protocol describes purification of RNA tags by proteinase K digestion of the cross-linked protein, addition of a 5 linker to the RNA tags, and amplification of the product by RT-PCR. Use of this protocol adds another important purification step: sizing of the PCR products to enrich for those derived from RNA originally cross-linked to the desired RNABP.

Save 30% & Get Free Shipping!*
Save 30% at checkout on our website.
(Limited time special offer.)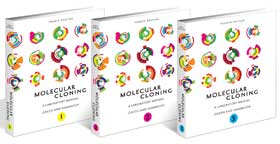 Search for information about other protocols included in the book:
Read What Others Are Saying About Molecular Cloning:
* Free shipping to individuals in U.S. and Canada only