Volume 1
Volume 2
Volume 3
Preparation of Single-Stranded Bacteriophage M13 DNA by Precipitation with Polyethylene Glycol
(Protocol summary only for purposes of this preview site)
Bacteriophage M13 single-stranded DNA is prepared from virus particles secreted by infected bacteria into the surrounding medium. Several methods are available to purify the polymorphic filamentous particles. In this protocol, adapted from Sanger et al. (1980) and Messing (1983), the particles are concentrated by precipitation with polyethylene glycol (PEG) in the presence of high salt. Subsequent extraction with phenol releases the single-stranded DNA, which is then collected by precipitation with ethanol. The resulting preparation is pure enough to be used as a template for DNA sequencing. A yield of 510 g of single-stranded DNA/mL of infected cells may be expected from recombinant bacteriophages bearing inserts of 3001000 nucleotides.

Save 30% & Get Free Shipping!*
Save 30% at checkout on our website.
(Limited time special offer.)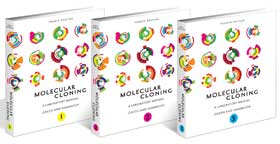 Search for information about other protocols included in the book:
Read What Others Are Saying About Molecular Cloning:
* Free shipping to individuals in U.S. and Canada only