Volume 1
Volume 2
Volume 3
Touchdown PCR
(Protocol summary only for purposes of this preview site)
The specificity of conventional PCRs decreases as the sequence complexity of the template DNA increases. The greater the complexity, the greater is the chance that the primers will bind promiscuously to sequences other than the intended target. The number of mispriming events can be reduced by optimizing the concentrations of the components of the PCR, in particular the concentrations of Mg2, primers, dNTPs, and template. Further minimization of off-target amplification can be obtained by using the most stringent annealing conditions that permit efficient, specific annealing of the oligonucleotide primers to their targets.

Save 30% & Get Free Shipping!*
Save 30% at checkout on our website.
(Limited time special offer.)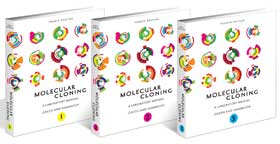 Search for information about other protocols included in the book:
Read What Others Are Saying About Molecular Cloning:
* Free shipping to individuals in U.S. and Canada only