Volume 1
Volume 2
Volume 3
Preparation of an 8-kb Mate-Pair Library for Illumina Sequencing
(Protocol summary only for purposes of this preview site)
This protocol provides instructions for preparing an 8-kb paired-end library suitable for sequencing on the Illumina instrument. These are large-insert libraries, and the initial shearing will use various parameters and different instruments to achieve the desired high-size fraction (see the information panel Fragmenting of DNA). For further details, see the discussion on paired-end libraries in the introductory section of this chapter.

Save 30% & Get Free Shipping!*
Save 30% at checkout on our website.
(Limited time special offer.)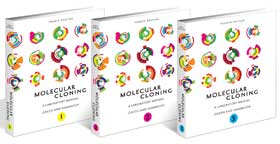 Search for information about other protocols included in the book:
Read What Others Are Saying About Molecular Cloning:
* Free shipping to individuals in U.S. and Canada only