Volume 1
Volume 2
Volume 3
Labeling of DNA Probes by Polymerase Chain Reaction
(Protocol summary only for purposes of this preview site)
The polymerase chain reaction (see Chapter 7) can be used to produce both nonradiolabeled DNA probes and radiolabeled DNA probes with high specific activity. The advantages of the method include the following.
Defined segments of the target DNA can be amplified and labeled independently of the location or type of restriction sites.
There is no need to isolate fragments of DNA or to subclone them into vectors containing bacteriophage promoters.
Only small amounts of template DNA are required (210 ng or 1 fmol).
The specific activity of the radiolabeled amplified DNA can exceed 109 dpm/g.

Save 30% & Get Free Shipping!*
Save 30% at checkout on our website.
(Limited time special offer.)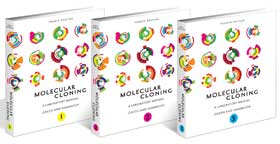 Search for information about other protocols included in the book:
Read What Others Are Saying About Molecular Cloning:
* Free shipping to individuals in U.S. and Canada only