Volume 1
Volume 2
Volume 3
Preparation of Cross-Linked Chromatin for ChIP
(Protocol summary only for purposes of this preview site)
The quality and usefulness of chromatin depends on the efficiency of cross-linking and on the accessibility of epitopes to cognate antibodies. To minimize problems, several independent preparations of chromatin should be made and tested side-by-side using a well-characterized antibody (TAF1 or histone H3 acetylation) in standard ChIP assays. The number of sonication cycles must be determined empirically. When sonication is being performed the first time for a given cell type and cross-linking condition, a small chromatin sample (5 L) after each sonication cycle should be analyzed by agarose gel electrophoresis to determine the optimal number of cycles. For ChIP-chip, it is not essential that a majority of chromatin fragments are 500 bp; an average fragment size ranging 12 kb is sufficient. However, for ChIP-seq, the average chromatin fragment should be <500 bp. Alternative methods to fragment chromatin include (1) digestion with micrococcal nuclease, which digests DNA between nucleosomes (Richard-Foy and Hager 1987), and (2) restriction enzymes that can be used in the ChIP-loop method to solubilize chromatin in isolated nuclei (Simonis et al. 2007).

Save 30% & Get Free Shipping!*
Save 30% at checkout on our website.
(Limited time special offer.)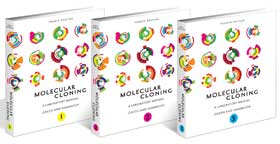 Search for information about other protocols included in the book:
Read What Others Are Saying About Molecular Cloning:
* Free shipping to individuals in U.S. and Canada only