Volume 1
Volume 2
Volume 3
Cloning PCR Products: TOPO TA Cloning
(Protocol summary only for purposes of this preview site)
The topoisomerase of vaccinia virus, like other type IB topisomerases, relaxes DNA supercoils by transiently breaking and rejoining one strand of the DNA duplex. Nicking of the DNA duplex occurs as a result of nucleophilic attack on the DNA phophodiester bond by the OH group of tyrosine 274 of the topoisomerase. Cleavage of the target DNA strand occurs with high specificity at a pentapyrimidyl tract 5(C/T)CCTT, creating a stable 3-phosphotyrosyl-DNA intermediate (Shuman et al. 1989). Because bond energy is conserved, the reaction is readily reversible and the phosphotyrosyl-DNA intermediate can either (i) catalyze reformation of the original duplex or (ii) create a recombinant DNA by forming a phosphodiester bond with an acceptor DNA with a 5-OH tail complementary to that of the donor complex (see Fig. 1).

Save 30% & Get Free Shipping!*
Save 30% at checkout on our website.
(Limited time special offer.)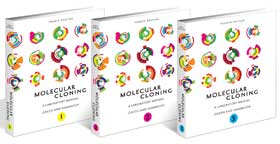 Search for information about other protocols included in the book:
Read What Others Are Saying About Molecular Cloning:
* Free shipping to individuals in U.S. and Canada only