Volume 1
Volume 2
Volume 3
Cloning PCR Products: TA Cloning
(Protocol summary only for purposes of this preview site)
The non-template-dependent terminal transferase activity inherent in nonproofreading DNA polymerases such as Taq provides a highly efficient method to clone PCR products. The enzyme adds a single, unpaired residuepreferentially an adenosyl residue (Clark 1988) to each 3 end of a double-stranded amplified product. The unpaired terminal (A) residues can pair with a linear T vector that carries an unpaired 3-thymidyl residue at each end (Holton and Graham 1991; Marchuk et al. 1991; for reviews, see Trower and Elgar 1994; Zhou and Gomez-Sanchez 2000).

Save 30% & Get Free Shipping!*
Save 30% at checkout on our website.
(Limited time special offer.)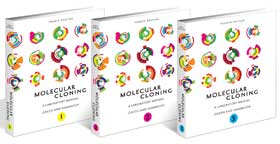 Search for information about other protocols included in the book:
Read What Others Are Saying About Molecular Cloning:
* Free shipping to individuals in U.S. and Canada only