Volume 1
Volume 2
Volume 3
Using Multisite LR Cloning to Generate a Destination Clone
(Protocol summary only for purposes of this preview site)
A multisite cloning reaction transfers the inserts from multiple Entry clones into a single Destination vector (Fig. 4 in the chapter introduction). This type of recombination is much less efficient than transferring a single DNA fragment; however, the variety of Destination clones that can be generated in this manner is vast. In this example protocol, we describe using pDEST-MB14 (Dupuy et al. 2007) to make a Destination clone that features a promoter fragment fused upstream to an ORF that is cloned in-frame with a carboxy-terminal GFP moiety encoded by the plasmid backbone. Just as with Protocol 2, this method can be used as a guide for other multisite cloning reactions.

Save 30% & Get Free Shipping!*
Save 30% at checkout on our website.
(Limited time special offer.)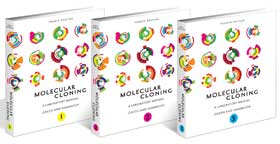 Search for information about other protocols included in the book:
Read What Others Are Saying About Molecular Cloning:
* Free shipping to individuals in U.S. and Canada only