Volume 1
Volume 2
Volume 3
Cloning in Plasmid Vectors: Directional Cloning
(Protocol summary only for purposes of this preview site)
Most plasmid vectors in common use contain multiple cloning sites that, in essence, are clusters of recognition sequences for many different restriction enzymes. Given the large variety of multiple cloning sites currently available (as many as 46 unique sites are present in some polylinkers, e.g., pSE280 from Life Technologies; and still longer polylinkers have been assembled; Brosius 1992), it is almost always possible to find a plasmid vector carrying unique restriction sites that are compatible with the termini of a particular fragment of foreign DNA.

Save 30% & Get Free Shipping!*
Save 30% at checkout on our website.
(Limited time special offer.)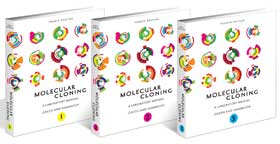 Search for information about other protocols included in the book:
Read What Others Are Saying About Molecular Cloning:
* Free shipping to individuals in U.S. and Canada only