Volume 1
Volume 2
Volume 3
Generation of Cell Lines with Tetracycline-Regulated Gene Expression
(Protocol summary only for purposes of this preview site)
The expression of transfected genes can be regulated by systems that are sensitive to tetracycline (see the chapter introduction for details). The following protocol is based on Clontech's Tet-On1 3G line of tetracycline-inducible expression systems. These systems incorporate a Tet-On 3G transactivator protein consisting of an rtTA that has been optimized for effector sensitivity using an enforced retroviral evolution strategy in human cells. The components of the Tet-On system were incorporated into the human immunodeficiency virus (HIV)-1 genome so that expression of viral proteins and hence viral replication was dependent on doxycycline (Dox) administration (Zhou et al. 2006). Prolonged culturing of the HIV-rtTA virus resulted in virus variants that acquired mutations in the rtTA protein, enhancing transcriptional activity by up to sevenfold and Dox sensitivity by nearly 100-fold. The Tet-responsive promoter (here referred to as PTRE3G) consists of the minimal CMV promoter altered by the systematic introduction of a series of rational modifications to further minimize background expression (Loew et al. 2010). The Tet-On 3G transactivator protein binds to and activates genes preceded by the PTRE3G at very low concentrations of Dox (510 ng/mL) and can yield up to a 27,000-fold difference in expression between induced and uninduced cells in certain cell lines (see http://www.clontech.com; Resource Application Notes: Tet-On 3G Inducible Expression SystemLowest Background, Highest Sensitivity).

Save 30% & Get Free Shipping!*
Save 30% at checkout on our website.
(Limited time special offer.)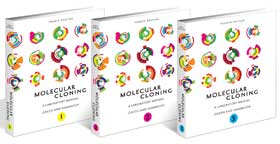 Search for information about other protocols included in the book:
Read What Others Are Saying About Molecular Cloning:
* Free shipping to individuals in U.S. and Canada only