Volume 1
Volume 2
Volume 3
Transfer and Fixation of Denatured RNA in Polyacrylamide Gels to Membranes by Electrophoretic Transfer
(Protocol summary only for purposes of this preview site)
Polyacrylamide gels, unlike agarose gels, have a highly cross-linked matrix that does not permit efficient, quantitative, or reproducible transfer by passive diffusion. Polyacrylamide gels should therefore be transferred by electroblotting (also known as electrophoretic transfer). Because this approach requires the use of a transfer buffer of low ionic strength, nylon membranes are generally used. The membrane is placed directly on the gel, and the gel together with its membrane is then sandwiched between layers of filter paper and placed in a special cassette that, in turn, is placed in a tank of buffer; the cassette is oriented such that the membrane side of the gel faces the positively charged anode. A voltage gradient is applied perpendicular to the direction of the initial electrophoresis of the gel, forcing the sample to migrate out of the gel and onto the membrane.

Save 30% & Get Free Shipping!*
Save 30% at checkout on our website.
(Limited time special offer.)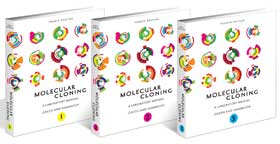 Search for information about other protocols included in the book:
Read What Others Are Saying About Molecular Cloning:
* Free shipping to individuals in U.S. and Canada only