Volume 1
Volume 2
Volume 3
Expression of Cloned Genes in E. coli Using IPTG-Inducible Promoters
(Protocol summary only for purposes of this preview site)
Many E. coli expression vectors use regulatory elements derived from the lac operon, which is unsurprising given that the lac operon represents a paradigm for prokaryotic gene regulation (for review, see Reznikoff 1992). Because the lac promoter itself is relatively weak, strong hybrid promoters have been developed for production of foreign proteins in E. coli (for review, see Baneyx 1999). As described in the introduction to this chapter, promoters for the expression of foreign proteins in E. coli usually depend on either the host cell RNA polymerase or on introduction of a foreign polymerase derived from the bacteriophage T7. Both types of vector are induced by addition of the nonhydrolyzable lactose analog isopropyl--D-thiogalactopyranoside (IPTG). The protocol given here is intended for use with these and other IPTG-inducible vectors. Other systems are described in the Discussion section.

Save 30% & Get Free Shipping!*
Save 30% at checkout on our website.
(Limited time special offer.)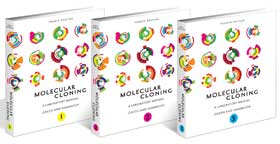 Search for information about other protocols included in the book:
Read What Others Are Saying About Molecular Cloning:
* Free shipping to individuals in U.S. and Canada only