Volume 1
Volume 2
Volume 3
Cloning PCR Products: Blunt-End Cloning
(Protocol summary only for purposes of this preview site)
The following elegant and simple protocol for generating and cloning blunt-ended DNA, adapted from Weiner (1993) and Chuang et al. (1995), builds on the earlier work of Liu and Schwartz (1992), who showed that incubation of a ligation reaction in the presence of an excess amount of restriction enzyme can dramatically increase the yield of recombinant plasmids. The role of the restriction enzyme is to cleave circular and linear concatemers at restriction sites that are regenerated when plasmid molecules ligate to themselves. The method requires that ligation of the plasmid to a target DNA molecule destroys the restriction site, so preventing the restriction enzyme from digesting recombinants generated during the ligation reaction. The net effect of constant reclamation of unit-length linear vector molecules is to drive the equilibrium of the ligation reaction strongly in favor of recombinants between vector and insert.

Save 30% & Get Free Shipping!*
Save 30% at checkout on our website.
(Limited time special offer.)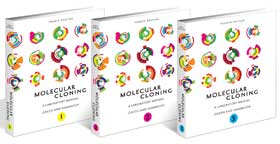 Search for information about other protocols included in the book:
Read What Others Are Saying About Molecular Cloning:
* Free shipping to individuals in U.S. and Canada only