Volume 1
Volume 2
Volume 3
Screening Colonies by PCR
(Protocol summary only for purposes of this preview site)
PCR, rather than the more labor-intensive minipreps, is often used to screen colonies of Escherichia coli for recombinant plasmids containing sequences of interest. When screening colonies for a DNA fragment amplified by PCR, the same primers used in the amplification reaction can be used for screening. To discover the orientation of the cloned fragment, a third primer can be used that binds to the plasmid sequences immediately adjacent to the insertion site and points toward the insert. This method can also be used to screen libraries for clones of interest (Israel 2006).

Save 30% & Get Free Shipping!*
Save 30% at checkout on our website.
(Limited time special offer.)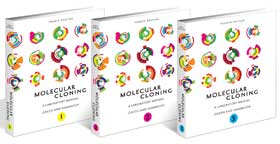 Search for information about other protocols included in the book:
Read What Others Are Saying About Molecular Cloning:
* Free shipping to individuals in U.S. and Canada only