Volume 1
Volume 2
Volume 3
Illumina Sequencing of Bisulfite-Converted DNA Libraries
(Protocol summary only for purposes of this preview site)
The Illumina Solexa sequencing technology uses cluster PCR to amplify the clonal sequencing features. Each sequencing cycle involves single-base extension with a modified DNA polymerase and a mixture of four modified nucleotides. Each of these nucleotides is marked with a different fluorescent label and a cleavable terminating moiety. Each cycle of sequencing is imaged in four channels, followed by chemical cleavage of the fluorescent labels and terminating moiety. The read lengths are typically up to 36 bp, but longer reads of up to 100 bp can be generated. In addition, it can be adopted for paired-end reads as with the other platforms (for further discussion, see Chapter 11, introduction and Protocols 410).

Save 30% & Get Free Shipping!*
Save 30% at checkout on our website.
(Limited time special offer.)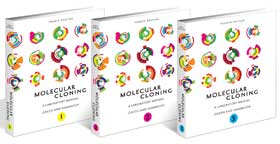 Search for information about other protocols included in the book:
Read What Others Are Saying About Molecular Cloning:
* Free shipping to individuals in U.S. and Canada only