Volume 1
Volume 2
Volume 3
DNA Bisulfite Sequencing for Single-Nucleotide-Resolution DNA Methylation Detection
(Protocol summary only for purposes of this preview site)
DNA methylation plays an important role in multiple biological processes. Therefore, methodologies that can detect changes in DNA methylation are of general importance. Currently, the most popular and reliable method for measuring DNA methylation status is DNA bisulfite sequencing (Clark et al. 1994). Denatured DNA (i.e., single-stranded DNA) is treated with sodium bisulfite under conditions that preferentially convert unmethylated cytosine (C) residues to uracil (U) residues while methylated cytosines remain unmodified (Fig. 1). The converted DNA can then be amplified using a gene-specific primer. U is amplified as thymidine (T) in PCR and detected as T during DNA sequencing. Note that bisulfite conversion does not discriminate between 5-methylcytosine and 5-hydroxymethylcytosine (Fig. 1). 5-Hydroxymethylcytosine is a newly identified cytosine modification observed in embryonic stem cells and Purkinje neurons (Kriaucionis and Heintz 2009; Tahiliani et al. 2009).

Save 30% & Get Free Shipping!*
Save 30% at checkout on our website.
(Limited time special offer.)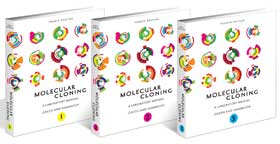 Search for information about other protocols included in the book:
Read What Others Are Saying About Molecular Cloning:
* Free shipping to individuals in U.S. and Canada only