Volume 1
Volume 2
Volume 3
Generating Yeast Two-Hybrid Bait Strains
(Protocol summary only for purposes of this preview site)
Generating DB-bait strains for Gateway-compatible Y2H screens involves three steps (see Fig. 2B in the chapter introduction). The first is to generate an Entry clone containing a DNA fragment encoding the protein of interest (e.g., an open reading frame, ORF). The second is to transfer this DNA fragment from the Entry clone to the Y2H Destination vector, pDEST32 (for conceptual maps of these vectors, see Fig. 1). The final step is to transform this construct into the Y2H yeast strain, MaV103. This protocol takes 2437 d plus sequence confirmation, if necessary, to complete.

Save 30% & Get Free Shipping!*
Save 30% at checkout on our website.
(Limited time special offer.)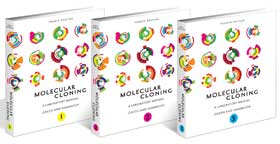 Search for information about other protocols included in the book:
Read What Others Are Saying About Molecular Cloning:
* Free shipping to individuals in U.S. and Canada only