Volume 1
Volume 2
Volume 3
Purification of rAAVs by Cesium Chloride Gradient Sedimentation
(Protocol summary only for purposes of this preview site)
Centrifugation to equilibrium in cesium chloride gradients has been used for more than 40 years to purify viruses. The application of high G-forces for a long period of time to a solution of CsCl generates a density gradient that allows separation of empty, partially packaged, and fully packaged viral particles from cellular debris, proteins, and nucleic acids in the crude viral lysate on the basis of their buoyant densities. This protocol describes the use of CsCl gradients to purify AAV vectors from crude viral lysates.

Save 30% & Get Free Shipping!*
Save 30% at checkout on our website.
(Limited time special offer.)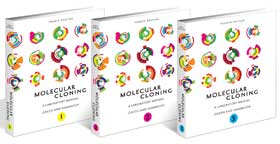 Search for information about other protocols included in the book:
Read What Others Are Saying About Molecular Cloning:
* Free shipping to individuals in U.S. and Canada only