Volume 1
Volume 2
Volume 3
Detection of DNA in Polyacrylamide Gels by Staining
(Protocol summary only for purposes of this preview site)
Unlike agarose gels, polyacrylamide gels cannot be cast in the presence of ethidium bromide because the dye inhibits polymerization of the acrylamide. However, ethidium bromide can be used to stain the polyacrylamide gel after electrophoresis. Because polyacrylamide quenches the fluorescence of the dye, the sensitivity with which DNA can be detected is somewhat diminished.

Save 30% & Get Free Shipping!*
Save 30% at checkout on our website.
(Limited time special offer.)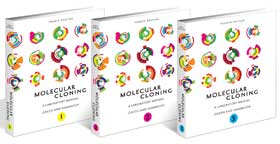 Search for information about other protocols included in the book:
Read What Others Are Saying About Molecular Cloning:
* Free shipping to individuals in U.S. and Canada only