Volume 1
Volume 2
Volume 3
The Inoue Method for Preparation and Transformation of Competent E. coli: Ultracompetent Cells
(Protocol summary only for purposes of this preview site)
At its best, this method for preparing competent E. coli from Inoue et al. (1990) can challenge the efficiencies achieved by Hanahan (Hanahan 1983; Hanahan et al. 1991; and see Protocol 1). However, under standard laboratory conditions, efficiencies of 1 108 to 3 108 transformed colonies/g of plasmid DNA are more typical. The advantages of the procedure are that it is less finicky and more predictable than the original Hanahan (1983) method.

Save 30% & Get Free Shipping!*
Save 30% at checkout on our website.
(Limited time special offer.)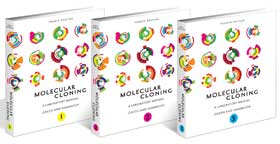 Search for information about other protocols included in the book:
Read What Others Are Saying About Molecular Cloning:
* Free shipping to individuals in U.S. and Canada only