Volume 1
Volume 2
Volume 3
Ribonuclease Protection: Mapping RNA with Ribonuclease and Radiolabeled RNA Probes
(Protocol summary only for purposes of this preview site)
In this protocol a randomly labeled single-stranded RNA probe is prepared and then hybridized to a population of mRNA molecules. The RNAs are digested with a mixture of RNase A and RNase T1. The hybrid molecules, which are resistant to the RNases, are separated and analyzed using gel electrophoresis and radiography. For additional information on mapping by ribonuclease protection and the ribonucleases used, see the section Introduction to Mapping RNA Molecules (specifically Ribonuclease Protection and Ribonucleases Used in Ribonuclease Protection Assays) preceding Protocol 16.

Save 30% & Get Free Shipping!*
Save 30% at checkout on our website.
(Limited time special offer.)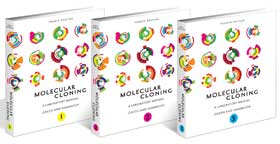 Search for information about other protocols included in the book:
Read What Others Are Saying About Molecular Cloning:
* Free shipping to individuals in U.S. and Canada only