Volume 1
Volume 2
Volume 3
Synthesis of Single-Stranded RNA Probes by In Vitro Transcription
(Protocol summary only for purposes of this preview site)
Strand-specific ssRNA probes are not only easier to make than DNA probes but also generally yield stronger signals in hybridization reactions than do DNA probes of equal specific activity. This is probably a result of the innately higher stability of hybrids involving RNA (Casey and Davidson 1977). DNA probes continue to be of general utility in, for example, northern and Southern hybridizations, but labeled RNAs are now the probes of choice when analyzing transcripts of mammalian genes. Instead of digesting DNARNA hybrids with the idiosyncratic nuclease S1, RNARNA hybrids are digested with RNase A, a durable and obedient enzyme that can be used at a wide range of concentrations without compromising the results of the experiment (Zinn et al. 1983; Melton et al. 1984) (see Chapter 6, Protocol 17). Probes generated by in vitro transcription can be either radiolabeled or nonradiolabeled.

Save 30% & Get Free Shipping!*
Save 30% at checkout on our website.
(Limited time special offer.)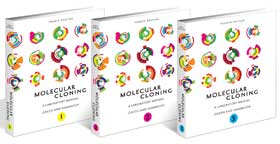 Search for information about other protocols included in the book:
Read What Others Are Saying About Molecular Cloning:
* Free shipping to individuals in U.S. and Canada only