Volume 1
Volume 2
Volume 3
Small-Scale Isolation of BAC DNA and Verification by PCR
(Protocol summary only for purposes of this preview site)
Small amounts of selected BAC DNAs are prepared from 5-mL cultures of the E. coli host transformed with the BAC clone. DNA is isolated by an adaptation of the alkaline lysis method described in Chapter 1, Protocol 1. (Alternatively, the QIAGEN spin miniprep kit may be used.) The yield is 0.10.4 g, and the BAC DNA is suitable for analysis by PCR. Considerations for clone selection are addressed in the Discussion section.

Save 30% & Get Free Shipping!*
Save 30% at checkout on our website.
(Limited time special offer.)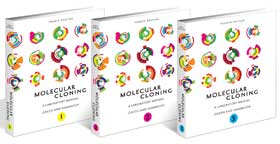 Search for information about other protocols included in the book:
Read What Others Are Saying About Molecular Cloning:
* Free shipping to individuals in U.S. and Canada only