Volume 1
Volume 2
Volume 3
Multisite-Directed Mutagenesis
(Protocol summary only for purposes of this preview site)
Most of the PCR-based methods of mutagenesis currently in use are direct descendants of techniques originally described in the late 1980s, soon after the introduction of thermostable DNA polymerases to PCR (Higuchi et al. 1988; Ho et al. 1989; Vallette et al. 1989). PCR-based site-directed mutagenesis (SDM) methods are widely used in molecular biology to selectively change the sequence of genes and to gain insight into their function. The early protocols allowed for the introduction of only one or two point mutations at a time (see Protocol 2), but more recently, several protocols for mutagenesis have been developed that create multiple independent mutations with high efficiency (Mikaelian and Sergeant 1992; Ishii et al. 1998; Kim and Maas 2000), and several commercial kits are now available. Most of them are not suitable for both general multisite-directed and close-proximity mutagenesis. Some methods require phosphorylated primers at the 5 end, and others require more rounds of PCR than the number of mutation sites to be introduced.

Save 30% & Get Free Shipping!*
Save 30% at checkout on our website.
(Limited time special offer.)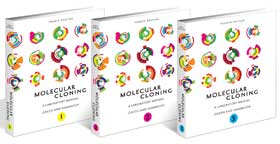 Search for information about other protocols included in the book:
Read What Others Are Saying About Molecular Cloning:
* Free shipping to individuals in U.S. and Canada only