Volume 1
Volume 2
Volume 3
Purification of Total RNA from Mammalian Cells and Tissues
(Protocol summary only for purposes of this preview site)
The following protocol, which has been adapted from Life Technologies/Invitrogen's protocol for using TRIzol reagent, describes the use of a monophasic lysis reagent to isolate total RNA from mammalian cells (grown as either a monolayer or in suspension) or tissues. Normal precautions to avoid RNase contamination should be taken (see the information panels How to Win the Battle with RNase, Inhibitors of RNases, and Diethylpyrocarbonate at the end of this chapter).

Save 30% & Get Free Shipping!*
Save 30% at checkout on our website.
(Limited time special offer.)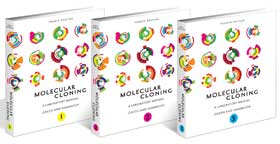 Search for information about other protocols included in the book:
Read What Others Are Saying About Molecular Cloning:
* Free shipping to individuals in U.S. and Canada only