Volume 1
Volume 2
Volume 3
Quantifying and Storing RNA
(Protocol summary only for purposes of this preview site)
Quantifying RNA is an important and necessary step prior to most RNA analysis techniques. Methods for quantifying RNA can be classified into two categories: ultraviolet (UV) spectrophotometric methods, which are based on the absorption spectra of the purine and pyrimidine bases; and fluorescent dyebased methods, which measure the fluorescence intensity of dyes that selectively fluoresce when bound to nucleic acids. If the RNA sample is pure (i.e., without significant amounts of contaminants such as proteins, phenol, agarose, or other nucleic acids), UV spectrophotometric measurement of the amount of UV irradiation absorbed by the bases is simple and accurate. However, if the sample contains significant quantities of impurities or if the concentration of RNA is very low, it is better to use fluorescent dyebased methods. An overview of spectrophotometric and fluorescent dyebased methods is shown in Table 1 and described in more detail below.

Save 30% & Get Free Shipping!*
Save 30% at checkout on our website.
(Limited time special offer.)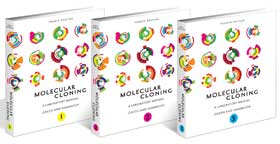 Search for information about other protocols included in the book:
Read What Others Are Saying About Molecular Cloning:
* Free shipping to individuals in U.S. and Canada only