Volume 1
Volume 2
Volume 3
Agarose Gel Electrophoresis
(Protocol summary only for purposes of this preview site)
Agarose is a linear polymer composed of alternating residues of D-galactose and L-galactose joined by -(13) and -(14) glycosidic linkages. Chains of agarose form helical fibers that aggregate into supercoiled structures with a radius of 2030 nm. Gelation of agarose results in a three-dimensional (3D) mesh of channels whose diameters range from 50 nm to >200 nm (Norton et al. 1986; for review, see Kirkpatrick 1990).

Save 30% & Get Free Shipping!*
Save 30% at checkout on our website.
(Limited time special offer.)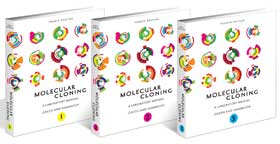 Search for information about other protocols included in the book:
Read What Others Are Saying About Molecular Cloning:
* Free shipping to individuals in U.S. and Canada only