Volume 1
Volume 2
Volume 3
Validation
(Protocol summary only for purposes of this preview site)
Next-generation sequencing technologies have enabled entire new fields of research, but it is important to realize that these technologies are, at their core, approaches that generate experimental data that are subject to error. When performed carefully using best practices for library construction and appropriate coverage levels, the mature NGS platforms (454, Illumina, and SOLiD) all have a very low error rate (approaching or exceeding one error per 10 million bases). However, sequencing errors can be compounded by analytical errors such as read mismapping to a reference genome, base substitutions introduced during amplification, and failure to remove duplicate reads containing the same PCR substitutions. These problems may be magnified during the course of a large-scale experiment and may result in a large number of errors in the final DNA sequence. It is vital that researchers using these technologies (1) appreciate these errors, (2) understand what may cause them, and, most importantly, (3) develop a filtering strategy that removes known sources of error.

Save 30% & Get Free Shipping!*
Save 30% at checkout on our website.
(Limited time special offer.)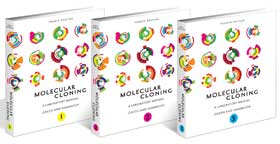 Search for information about other protocols included in the book:
Read What Others Are Saying About Molecular Cloning:
* Free shipping to individuals in U.S. and Canada only