Volume 1
Volume 2
Volume 3
Sequencing of RNA CLIP Tags
(Protocol summary only for purposes of this preview site)
There are two strategies for sequencing the PCR products of CLIPed RNA. Low-throughput sequencing involves cloning of PCR products, conventional minipreps, and sequencing. This can be performed on the PCR product generated in Protocol 5 using standard protocols for A-tailing the PCR product and TA-cloning (see Chapter 3, Protocol 12). This may be a worthwhile strategy when analyzing a small number of clones. For example, a pilot CLIP experiment can be evaluated with 50 sequences to confirm that they arise from the species used and not from bacterial RNA contamination. This was a serious problem during the initial development of CLIP because some of the commercial enzymes used were contaminated with RNA from other organisms and this RNA was unfortunately cloned efficiently. We identified T4 RNA ligase as a common source of this contamination and now routinely use the Fermentas product, which has the least contamination. In new CLIP experiments, especially when working with trace amounts of RNA, this may be an issue to consider.

Save 30% & Get Free Shipping!*
Save 30% at checkout on our website.
(Limited time special offer.)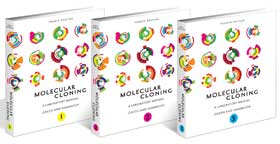 Search for information about other protocols included in the book:
Read What Others Are Saying About Molecular Cloning:
* Free shipping to individuals in U.S. and Canada only