Volume 1
Volume 2
Volume 3
Dual Luciferase Reporter Assay
(Protocol summary only for purposes of this preview site)
This protocol is adapted from the Dual-Luciferase Reporter1 Assay System (Promega). It uses luciferase enzymes from the firefly (Photinus pyralis) and sea pansy (Renilla reniformis), measuring their activities sequentially in a single sample. The firefly luciferase reporter is measured first following the addition of a reagent that generates a stabilized luminescent signal. A second reagent is then added that both quenches the firefly luciferase reaction and initiates the Renilla luciferase reaction. The luminescent signal from the firefly reaction is quenched by at least a factor of 105 (to 0.001 residual light output) concomitant with the complete activation of the Renilla luciferase within 1 sec following the addition of this reagent. The reagent also stabilizes the Renilla luciferase signal, which decays slowly over the course of the measurement. The assay is rapid, sensitive, and specific. Both of the luciferase reporter activities can be measured in 30 sec, even with a manual luminometer. Both reporters yield linear assays with detection sensitivities of 1 fg (1020 mol) for firefly luciferase and 30 fg (31019 mol) for Renilla luciferase with no endogenous activity of either reporter in the experimental host cells. The luciferase activity is expressed as relative light units per milligram of protein in the cell lysate. In this protocol, in which two separate luciferase activities are measured, the ratio of the relative light units obtained with the reporter to those of the coreporter is a measure of the promoter activity.

Save 30% & Get Free Shipping!*
Save 30% at checkout on our website.
(Limited time special offer.)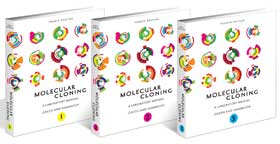 Search for information about other protocols included in the book:
Read What Others Are Saying About Molecular Cloning:
* Free shipping to individuals in U.S. and Canada only