Volume 1
Volume 2
Volume 3
Isolating DNA from Gram-Negative Bacteria (e.g., E. coli)
(Protocol summary only for purposes of this preview site)
The isolation of DNA from bacteria, described in this protocol, relies upon the use of SDS and proteinase K to lyse the cells. High-molecular-weight DNA is then sheared (to reduce its viscosity and make it more manageable), extracted with phenol:chloroform, and precipitated with isopropanol. DNA isolated according to this procedure ranges from 30 to 80 kb in length.

Save 30% & Get Free Shipping!*
Save 30% at checkout on our website.
(Limited time special offer.)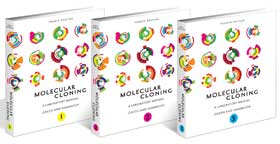 Search for information about other protocols included in the book:
Read What Others Are Saying About Molecular Cloning:
* Free shipping to individuals in U.S. and Canada only