Volume 1
Volume 2
Volume 3
Isolation of DNA Fragments from Polyacrylamide Gels by the Crush and Soak Method
(Protocol summary only for purposes of this preview site)
The standard method to recover fragments of DNA from polyacrylamide gels is the crush and soak technique originally described by Maxam and Gilbert (1977). The eluted DNA is generally free of contaminants that inhibit enzymes or that are toxic to transfected or microinjected cells. The method requires time but little labor and results in recovery of <3090, depending on the size of the DNA fragment. It can be used to isolate both double-stranded and single-stranded DNAs from neutral and denaturing polyacrylamide gels, respectively. The method is widely used to isolate synthetic oligonucleotides from denaturing polyacrylamide gels (Chapter 6, Protocol 11). DNA recovered from polyacrylamide gels by crushing and soaking is generally suitable for use as a hybridization probe, as a PCR primer, and as a substrate in enzyme-catalyzed reactions. The following procedure is a modification of the technique described by Maxam and Gilbert (1977, 1980).

Save 30% & Get Free Shipping!*
Save 30% at checkout on our website.
(Limited time special offer.)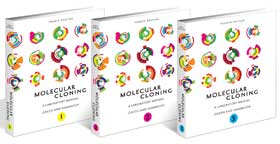 Search for information about other protocols included in the book:
Read What Others Are Saying About Molecular Cloning:
* Free shipping to individuals in U.S. and Canada only