Volume 1
Volume 2
Volume 3
Expression of Cloned Genes in P. pastoris Using the Methanol-Inducible Promoter AOX1
(Protocol summary only for purposes of this preview site)
Pichia pastoris is a methylotrophic yeast capable of metabolizing methanol as its sole carbon source (Cregg et al. 1985). Growth in methanol-containing medium results in dramatic induction of genes in the alcohol oxidation pathway including alcohol oxidase (AOX), formaldehyde dehydrogenase (FLD), and dihydroxyacetone synthase (DHAS) (Cregg 2007a). These proteins may comprise up to 30 of the biomass. Investigators have exploited these methanol-dependent genes to generate tightly regulated expression vectors (Daly and Hearn 2005). Most Pichia vectors use the strong and tightly regulated AOX1 promoter to drive heterologous protein expression. The pPICZ vector is shown in Figure 1. After cloning, the heterologous gene will be flanked by the AOX1 promoter and AOX1 transcription termination sequences. These sequences are homologous to the corresponding AOX1 regions in the Pichia genome and facilitate integration of the heterologous gene into the genome via homologous recombination (Cregg et al. 1985, 1989).

Save 30% & Get Free Shipping!*
Save 30% at checkout on our website.
(Limited time special offer.)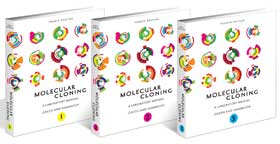 Search for information about other protocols included in the book:
Read What Others Are Saying About Molecular Cloning:
* Free shipping to individuals in U.S. and Canada only