Volume 1
Volume 2
Volume 3
Small-Scale Preparations of Yeast DNA
(Protocol summary only for purposes of this preview site)
Yeast DNA is prepared by digestion of the cell wall and lysis of the resulting spheroplasts with SDS. This method reproducibly yields several micrograms of yeast DNA that can be efficiently cleaved by restriction enzymes and used as a template in PCR. Note that yeast colonies can be used directly in PCR, without purifying yeast DNA, with an approach similar to that of colony PCR, described in Protocol 6, Steps 912. An alternative method for preparing yeast DNA is given in Chapter 1, Protocol 16.

Save 30% & Get Free Shipping!*
Save 30% at checkout on our website.
(Limited time special offer.)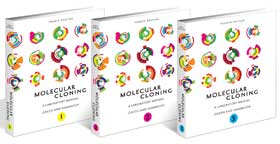 Search for information about other protocols included in the book:
Read What Others Are Saying About Molecular Cloning:
* Free shipping to individuals in U.S. and Canada only