Volume 1
Volume 2
Volume 3
Measuring the Infectious Titer of Recombinant Adenovirus Using TCID50 End-Point Dilution and qPCR
(Protocol summary only for purposes of this preview site)
Traditionally, adenovirus and recombinant adenovirus infectious titers have been measured by plaque assay, in which the cells are infected with serially diluted adenovirus stock and then overlaid with agar; a plaque will form as the result of a single infectious event (Lawrence and Ginsberg 1967). Although this method gives a quantitative readout (number of plaques corrected for the dilution), there can be issues with sensitivity and reproducibility, especially when adenovirus serotypes are used that infect standard cell lines with poor efficiency.

Save 30% & Get Free Shipping!*
Save 30% at checkout on our website.
(Limited time special offer.)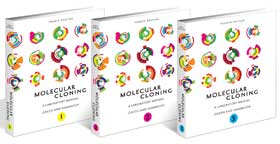 Search for information about other protocols included in the book:
Read What Others Are Saying About Molecular Cloning:
* Free shipping to individuals in U.S. and Canada only